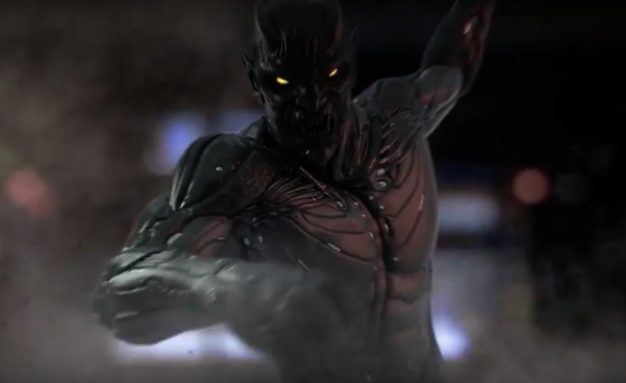 By Susan D. Harris
After clicking on a Christian video on YouTube, I was shocked when an image of Satan popped onto my screen displaying a split second subliminal image. It had no intention of being subliminal however; it was an advertisement for a car — the 2018 Dodge Demon — and it was terrifying.
Granted, back in the 1970's, another Dodge Demon automobile gained popularity, complete with little cartoon devil decals which, according to one website, "didn't sit well with some religious groups, but definitely added to the Demon's flair."
In 2017 however, Satan is literally in your face. How fitting that in these "ends of days" — when we see evil openly manifesting itself without apology — that Dodge would put out a slimy, hell-sizzling video tease like this: https://www.youtube.com/watch?v=DDJip8RHn-8
Another Dodge Demon promotion titled "Cage" has elements similar to both the CERN opera "Symmetry," as well as the strange satanic opening of the Gotthard tunnel in Switzerland. Indeed, a similar tunnel is used by Dodge to transport a mechanized demon from its underground cage to the streets above to be unleashed on the world. In the next unabashed display of Luciferian pride, the mechanized creature suddenly reveals himself to be Satan himself. Flames abound in all of the Dodge Demon promotional videos.
Even more cryptic is the fact that Dodge launched a microsite for the new car titled "If you know, you know," which is simultaneously being advanced as a hashtag promotion. One can't help but think of a similar sounding enigmatic piece of advice: "He who has ears to hear, let him hear."
Dodge is now owned by Fiat Chrysler Automobiles, or FCA. It's described as "an Italian-controlled Dutch multinational corporation…currently the world's seventh-largest automaker." If you visit their website, you will see all of the U.N. Agenda 21 gibberish about being "A World Class Sustainable Plant" and a proclamation that they are one of the "most sustainable automotive companies in the world…contributing daily to the transition to a circular economy." You'll also see a ton of greenie talk that outs them as Climate Change, New World Order globalists.
Whether it's a scientific hadron collider, a transportation tunnel or a new car, Satan seems to be taking center stage as Jesus' return draws closer. Thanks be to God that our hope lies in the return of our Savior, and not in the hellfire and lies of his adversary.
-End of Article-
Psalm 91
King James Version (KJV)
91 He that dwelleth in the secret place of the most High shall abide under the shadow of the Almighty.
2 I will say of the Lord, He is my refuge and my fortress: my God; in him will I trust.
3 Surely he shall deliver thee from the snare of the fowler, and from the noisome pestilence.
4 He shall cover thee with his feathers, and under his wings shalt thou trust: his truth shall be thy shield and buckler.
5 Thou shalt not be afraid for the terror by night; nor for the arrow that flieth by day;
6 Nor for the pestilence that walketh in darkness; nor for the destruction that wasteth at noonday.
7 A thousand shall fall at thy side, and ten thousand at thy right hand; but it shall not come nigh thee.
8 Only with thine eyes shalt thou behold and see the reward of the wicked.
9 Because thou hast made the Lord, which is my refuge, even the most High, thy habitation;
10 There shall no evil befall thee, neither shall any plague come nigh thy dwelling.
11 For he shall give his angels charge over thee, to keep thee in all thy ways.
12 They shall bear thee up in their hands, lest thou dash thy foot against a stone.
13 Thou shalt tread upon the lion and adder: the young lion and the dragon shalt thou trample under feet.
14 Because he hath set his love upon me, therefore will I deliver him: I will set him on high, because he hath known my name.
15 He shall call upon me, and I will answer him: I will be with him in trouble; I will deliver him, and honour him.
16 With long life will I satisfy him, and shew him my salvation.
Comments
comments